University Grants Commission, on January 5 unveiled proposed guidelines to facilitate the Setting Up and Operation of Campuses of Foreign Higher Educational Institutions in India. In simple words, India is poised to accommodate foreign campuses of a few of the worlds best universities.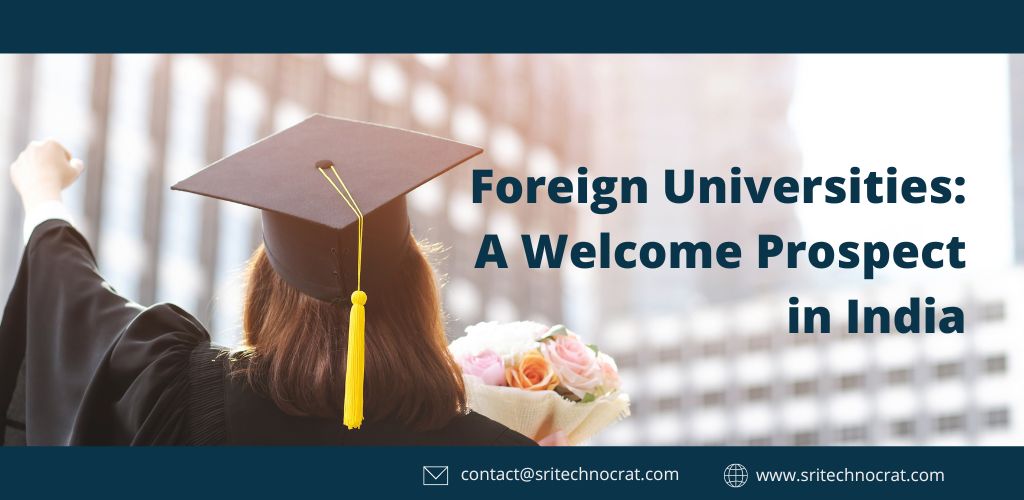 From the dawn of civilization, Homo sapiens have always traveled overseas in quest of high-quality higher education. With the quest to study abroad come unprecedented challenges such as the emotional strain and vulnerability of migrating to a foreign nation, in a land of unknowns, and the burden of taking loans for education which often interfere with individuals' decision to pursue this option.

Despite the deterrents and setbacks, there is a silver lining. What if we tell you that there is a panacea? You can study in foreign universities without leaving your native country and at almost half the price. This is what gives hope to many of us that will soon become a reality for Indian students.

University Grants Commission (UGC), on January 5 unveiled proposed guidelines to facilitate the "Setting Up and Operation of Campuses of Foreign Higher Educational Institutions in India". In simple words, India is poised to accommodate foreign campuses of a few of the world's best universities.

According to the draught guidelines, these universities will be bestowed with complete autonomy in determining their fee structure, regulating the admission process, and repatriating their revenues.

"The new National Education Policy (NEP), 2020, has envisaged that top universities across the globe will be facilitated to operate in India," stated UGC Chairperson M Jagadesh Kumar during a press conference. Further, a legal framework supporting such admission would be put in place, and universities will be granted special treatment in terms of regulatory, governance, and content criteria on par with other autonomous Indian institutions.

Here are some major points from the draught putting things into perspective:
These institutions will be empowered to decide on their own admission criteria and processes for both domestic and international students.
No limits will be barred on hiring personnel and academics from India and other countries.
The foreign entities can set their respective fee structure, but they must be "fair and transparent."
To ensure equality, the degrees granted to Indian students should be equivalent to the ones provided by universities in their home nation.
No online or distance learning programs are available at these campuses.
The campuses will be approved for ten years and will be extended in the ninth year. Furthermore, these colleges are not permitted to provide courses that might jeopardize national interests.
Under the Foreign Currency Management Act (FEMA), 1999, any foreign educational institution will be permitted to transfer funds across borders and maintain foreign currency accounts, remittance repatriation, modes of payment, and sale of revenues.

In reality, this is how this might be a boon for India and its students:
Reduce the outflow of Indian Money and prevent Brain Drain.
Identify and address the gross enrollment ratio issue.
Foreign universities in India will assist in fostering cultural interaction and communication between India and other nations.
By establishing international institutions, the country may improve its worldwide competitiveness in education and research.
It may also boost the country's brand value by offering a chance to exhibit the nation's potential and capabilities to the global community.
The constant battle to gain admission to elite Indian colleges despite excellent grades would also be reduced. Students will have more alternatives to choose from owing to these offshore campuses.
Students will no longer be required to relocate overseas; they will be able to access quality education and technologically sophisticated learning materials at a significantly lesser cost in their own country.
In short, days after the draft proposal was released, Dharmendra Pradhan, the Union Minister of Education stated that "Two Australian universities will be developing their campuses in the Gujarat International Finance Tec (GIFT) City in Gujarat. We wish to work with Australia with affordability, accessibility, and quality of education for youths".

While the idea to allow foreign campuses inspires optimism for a prosperous future for the Indian education system, some academics are skeptical. They see it as a possible "damage" to the Indian school system and believe it will only culminate in education commercialization.

It's difficult to determine whether this idea will be a success or not today. What is harder is not seeing the Indian education system attain greater heights in the contemporary day.

Implementing this policy appears to be the next obvious step in our quest to establish ourselves as a sought-after educational destination. But, we should recognize that such substantial decisions require time to implement, and they must do so in order to prevent severe problems or controversies.
04-Apr-2023